Saturday was such a blast! Despite the initial chilly weather, folks turned up in record numbers for our Amigos Garden Fall Open House, and a great time was had by all!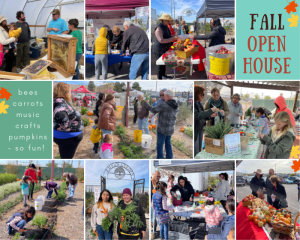 El Paso Master Gardeners generously shared a spread of knowledge with our guests at their Adult Outreach gardening informational table, while the Youth Outreach station in the educational pavilion was consistently humming with visitors young and old. Rosemary angel crafts, using herbs for Christmas, herb games, and herb-infused water (complete with a DIY origami-style paper cup craft) kept everyone engaged and learning!
Paso del Norte Beekeepers assist at many of our open houses, and we loved hearing these knowledgeable folks sharing about El Paso's bees, both native and honeybees! Their observational beehive and large photos of bee life are always a huge hit.
You may have seen Dream Small Ministry's creative craft table at our monthly Community Meals! This joyful, servant-hearted crew brought face painting and pumpkin decorating, among other fun crafts and games, to our open house!
We enjoyed live music from Jeff Winston, homemade bracelets from our young entrepreneur Catalina, delicious smoothie samples from Smoothie King, and a tasty, healthy tostada lunch from the Mustard Seed Cafe kitchen. Visitors were sent home with free produce from the Mustard Seed table, goodie bags, recipes using some of the fruits and vegetables grown at the Amigos Garden, and pumpkins delivered by Jardin de Milagros!
It's a joy to bring our community together to share produce, education, and fun in this unique way – and all free of charge! We can't wait for the next one!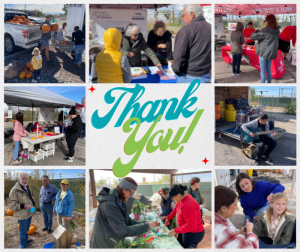 A big "Thank you!" to:
Jardin de Milagros for providing produce and pumpkins
El Paso Master Gardeners Youth Outreach featuring Herbs! & Adult Outreach Information Table for engaging with kids and adults alike
Paseo del Norte Beekeepers Association for sharing their knowledge and observational honeybee hive
Jeff Winston for providing live music
Dream Small Ministry for crafts and face painting
Smoothie King for providing free smoothie samples
And all of the amazing volunteers and eager guests who made this Amigos Garden Open House a success! Muchas gracias!