Our Spring in the Garden Open House last weekend was a rousing success!
Guests to the garden learned about gardening, insects, nutrition, and bees! Children enjoyed games, crafts, and face painting, while everyone was able to harvest an onion and/or carrot to take home and eat. We had fresh produce and tasty food, all free of charge!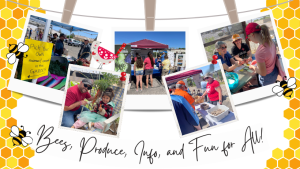 Many thanks to all those who donated their time, knowledge, energy, fresh produce, and enthusiasm to this day. We are grateful for the collaboration of the Hobsons and Jardin de Milagros, Texas Master Gardeners Youth and Adult Outreaches, Paseo del Norte Beekeepers Association, the El Paso Humane Society, Machelle Wood from the Texas Historical Commission/Magoffin Home, Dream Small Ministry, our young entrepreneur Enchanted Glitter Soapery selling homemade soaps, Phyllis with free books, and all of our amazing volunteers!
Come back and visit us soon!