The Amigos Garden wants to feature a monthly vegetable growing in our El Paso garden. For the month of February, our featured vegetable is…the CARROT!
Carrots are one of our most popular and versatile harvests that the Amigos Garden provides to the Cafe. This root vegetable is ready to harvest in 60-80 days after planting – and the best thing is that we can grow them year-round!
During our Amigos Garden Seasonal Open Houses, "Harvest a Carrot" is always a popular activity. Guests always enjoy harvesting their own carrots, washing them, and tasting them on the spot! What a fantastic way to connect with where our food comes from for everyone, young and old.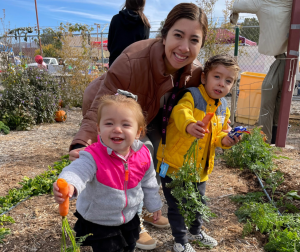 If you are interested in learning more about carrots or what we are growing in our Amigos Garden, visit us!
Nutritional & Fun Facts
Cooked carrots are better for you than raw carrots, as the nutrients are easier for our bodies to absorb. Be creative! They add great taste and texture to soups, tomato sauce, casseroles, and of course – salad!
They are a great source of Vitamin A, which is important for healthy eyes, skin, and immune system.
They are 88% water!
Carrots are the 2nd most popular vegetable in the world!
Source: AgHires Blog